Hiking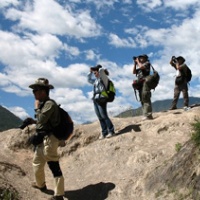 Among all the area exercises hiking or trekking is the most frequenting outside game for the general population who feel tremendously pulled in by mountain, slope, wilderness and so forth. It is generally known as exploring in the games world. It is called so in light of the fact that the trekkers convey all the fundamental types of gear like nourishment, cooking things, water, bedding, tent, and garments in a knapsack while voyaging. Without a doubt, it is for the most part supported by the enterprise mongers for investigating new destinations ashore and experiences the craftsmanship of nature.

Hiking is of different sorts relying upon landforms picked and can cover from short of what one day to one month or more. With all the critical things you need complete information about the spot or the atmosphere there. Your nerves ought to that much solid to be unfaltering in any sudden condition. As it is not simply like a smooth touring visit you can be in any sort of circumstance at whatever time.

Mountain Adventures Tours and Travels is there to help you each way with the goal that you don't need to confront any sort of issue while hiking in Darjeeling, Dooars, Nepal, Bhutan, Northeast India or other places. With our course of action you are going to have fantastic experience of wilderness on your outing with master guidance. You will get legitimate direction on that and you will be educated about and furnished with all the required types of gear.