River Rafting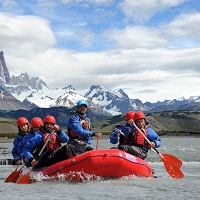 White water rafting or river rafting is a standout amongst the most brave water sports, favoured by the vast majority of the audacious individuals all through the globe. An inflatable pontoon is utilized to explore a stream or other waterway. Raft is lightweight, especially stable for water-ride and conveys low focus of mass. Obviously, it is a standout amongst the most lethal games and loaded with dangers. You need that much bravery and should be physically fit for this game as it's in no way like riding a typical vessel.

You can watch contrast in rafting classifications as indicated by levels, water body and so forth. There are numerous methods and traps to ride a raft legitimately. A few trouble levels relying upon the flow of the stream, the waterfalls, the concealing rocks and so on debilitate even the thrill seeker riders as well. In the event that you need to pass those trouble levels you need legitimate preparing on taking care of the watercraft or comprehension the game. On the other hand you should be with a specialist while skimming on the quick stream of the water.

Mountain Adventures Tours & Travels is putting forth best course of action with exceptionally gifted specialists so you can have a sheltered and exciting ride on a raft in the rapidly flowing water of mountain rivers. While you are going for an experience our worry is to have pre-alert from peril for your wellbeing.